Huawei Solar Inverter Review Australia 2018
When we first wrote our review on the Huawei FusionHome inverter in January it was brand new to the Australian market. We wrote an enthusiastic review saying that it was exactly what the Australian public were asking for... a battery ready hybrid, that could also combat shade with optimisers, that was small, silent and stylish and manufactured by one of the World's largest companies at an attractive price.
1. It's a hybrid inverter. In-built battery connection terminals and associated hardware and software. You can NEVER connect a battery to a non hybrid like the popular Fronius Primo. The only solution for a non hybrid is to connect an additional inverter that CAN connect to batteries at an additional cost of about $2,000 (e.g. Goodwe's AC and DC coupled products, Tesla Powerwall 2, SMA Sunny Boy Storage).

Left Fronius. No battery connection there. Right Huawei with + and - connectors for batteries
2. It's a bit cheaper than the non hybrid Fronius Primo.
Update October 5th 2018.
At the All Energy Expo Fronius revealed their HYBRID versions of the Primo (single phase) and Symo (3 phase). The Primo hybrid is due for release approx April 2019. The 3 phase model some time (unspecified) later in the year. Both are pictured below.
No, they are not audio speakers... the grill is to help the fan cool the inverter.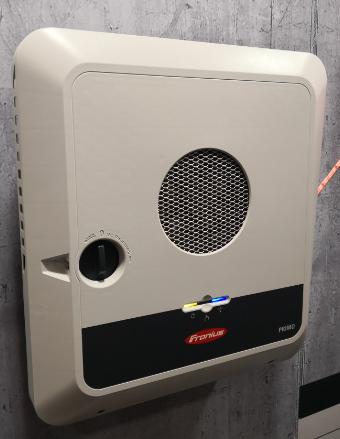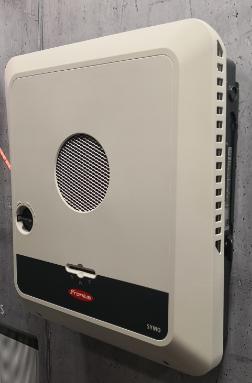 3. It has a genuine 10 year product warranty + 5 year labour warranty from the 83rd largest company in the World as measured by the Fortune 500 list (Last year sales were US$75 billion). Huawei are also the World No.1 commercial three phase solar inverter manufacturer, the World No.2 smartphone manufacturer, ahead of Apple, behind Samsung and more than half the World internet and phone traffic is carried over Huawei routers and telco switching gear.
4. It's tiny. Half the size on your wall compared to a normal 5kW inverter like Fronius Primo.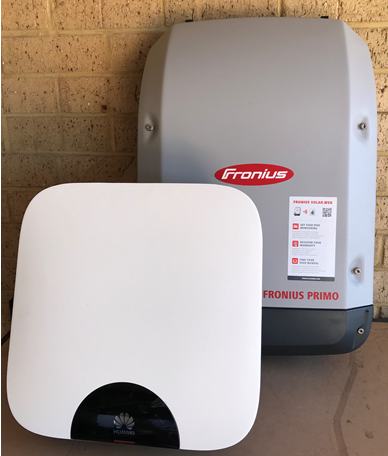 Update October 5th 2018.
Huawei demonstrated the new 3 phase hybrids (5kW and 6kW models) at All Energy Expo.
They expect stocks to be available in Perth Dec/Jan. The three phase model is a little wider than the single phase model. Pictured below. It also has a 4G sim card slot built into the WIFI transmitter for reporting from where WIFI is poor.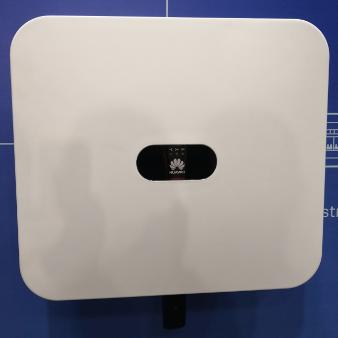 5. It's beautiful. Won a prestigious international design award.
6. It has optional DC optimisers ($80 each) that can be connected to all or any of your solar panels. Huawei are unique with their optimiser design. Instead of having an optimiser on every panel (e.g. SolarEdge or Enphase micros) you only fit them to where you need them. This hugely helps us design a very cost and power efficient solar installation. For instance, we can create a 14 panel string, with 10 panels facing North and 4 facing West and put optimisers only on the 4 West facing panels with no power losses. Or we can put optimisers on a couple of panels that get shaded now and again and again, with no loss of power to the rest of the string. (More on that at the bottom of the page).
7. It's very safe and a bit geeky too. If you buy the optional smart safety box ($300) then any panels with optimisers will be instantly de-energised if you choose to flick the switch or AC power is lost. An added benefit of the smart safety box is panel level monitoring so you can see the individual output of any panel that has an optimiser attached. Available now.
8. The Huawei NetEco smartphone and web based reporting is excellent. Most people will see what they need straight away, but you can delve deeper if you need to. If you fit the Huawei smart meter, even without batteries, then the NetEco software will show you your consumption and exports, (Same as Fronius and SolarEdge smart meters) but its real purpose is to manage the store or release of battery power based on your immeadiate home power use.
9. The Huawei FusionHome is ready to go with the LG Chem high voltage batteries. Just connect the smart meter across your phase cable and off you go. There was a lot of chat about it being made ready to work with other high voltage batteries (BYD and Pylontech) but to date, its only LG.
10. At the moment, there is no mains failure backup circuit. It's coming in 2019, and in parts of Australia where the power supply is unreliable, its a critically important feature and a good reason to consider other hybrids for now, but here in Perth, we have a very stable network and the need for a short term backup of critical circuits from stored battery power is very rarely an issue. (I live in outer suburbs in the North East of Perth and haven't had a single power cut at my home in the four years I have been there).
11. The current models are all single phase, but the three phase hybrid model(s) were announced to the World in October 2018 at All Expo in Melbourne with stock available in Dec 2018 or January 2019. (We say February simply because everything takes that little bit longer to get to WA).
12. String lengths when connecting to batteries. In Perth we have much less to worry about with high open circuit voltages than in colder parts of the World. The LG battery has a 500V input limit and as that is the battery Huawei are currently working with, we recommend keeping the number of panels on a string to 12 or less. 13 or even 14 is probably fine in Perth due to the low irradiance here when we get our coldest mornings, and the worst case scenario is only that the battery switch will trip off, but in Perth, 12 panels is safe as houses per MPPT.
Models
All the models are physically the same size, with all the same features.
Battery interface built in
Dual tracking
WIFI and smartphone/browser reporting built-in
Optional DC optimisers
Optional smart meter
Click here for brochure/datasheet for Huawei FusionHome single phase Hybrid models
SUN2000L 2kW, 3kW, 4kW, 4.6kW and 5kW.
WIFI setup instructions for installers and end users
Note. For larger 3 phase non hybrid installations the Huawei Fusion Solar inverters (8kW, 12kW, 17kW, 20kW and 33kW) inverters are available. They are really excellent, World leading in fact, but an entirely different technology to these FusionHome residential inverters.
Options
Hauwei DC optimisers are $80 each installed. You can have as few as one optimiser if you are combatting shade, or optimisers on every panel if you want multiple roof orientations or panel level monitoring. Very flexible and cost effective.
Compatible batteries.
The Huawei inverter currently only connects to the LG Chem RESU 7H and 10H high voltage (400V) solar storage batteries. The 10H currently costs $7,500