Fronius Inverter Review Australia 2019
Fronius is a family owned business based in Pettenbach, Austria and run since 2011 by Elisabeth, granddaughter of founder Gunter Fronius who started this battey/glass and welding firm at the end of WW2 and lived to the very ripe old age age of 107. Today Fronius employ 3,700 people which looks a bit small fry compared to World leading inverter manufacturer Huawei with 180,000 staff, but Fronius know what they are doing, and filled a void that German SMA left five years ago. Fronius focussed on...
Quality products, exceptionally well-designed and with above average reliability.
They were the first with really exceptionallly good quality WIFI and browser reporting.
It's nothing special now, but 4-5 years ago it was.
Demand for Fronius inverters in Australia, frequently outstrips their ability to supply which means that they are often slow to respond to technology changes, and also don't have any great incentive to be price competitive (typically $700 more expensive than equivalents). Up to 2014, Fronius were a bit of a second-string player in the Australian inverter market behind SMA, but the anti-Chinese made sentiment of that time, which frankly was entirely justified, pushed Fronius into the spotlight with their new 'Snap inverters' just when German SMA decided to make all their single phase inverter range from a Chinese factory. Fronius pretty much became 'Last man standing in Europe' and to this day, anti Chinese made attitude dies hard no matter what the actual reality of quality is today, so Fronius are very smart to carry on making their products in Europe. By all accounts, SMA save themselves about $100 an inverter by making them in China and not Germany. Fronius chose to swallow those extra costs to maintain their brand reputation, and kudos for that. It's the luxury that proud family ownership of a private company affords over pesky shareholders.
As we are an installer of thousands of Fronius inverters we can say, without hesitation that Fronius inverters are top quality products. They were the best, a year or two ago, but really, they are not any more. For those with long solar experience, you will remember when Fronius were trying to convince us all that a single MPPT inverter with equal strings wired in parallel were as good, if not better, than inverters with dual MPPTs. ..until they released their dual MPPT Primo and Symo inverters. Now they are trying to convince us that these 5 year old products are better than new hybrids that connect batteries from Huawei, Sungrow, Goodwe etc. It's really not honest, especially as we all know that Fronius are replacing their Primo and Symo with hybrids some time in 2019. Just clearing stocks, without the stocktake sale. At least SMA have been a bit more up-front with discounts on the 3 phase Tripower as it moves from German manufacturing in 2018 to fully Chinese in 2019.
A lot of installers on Whirlpool and Facebook make a big deal about Fronius features like home consumption reporting and import/export, but really, you can get the exact same with a smart meter from a lot of other hybrid brands like Huawei..and at least that smart meter is useful for battery connection later when you want it, unlike the Fronius meter which isn't.
As technology moves forward, so does the quality of service support. Today, Huawei installers (and other brands) can dial into any inverter they support via the web monitoring portal and change settings...e.g. Western Power voltage causing shut downs or clipping, firmware upgrade etc, but with Fronius it's still USB sticks and pushing buttons on the inverter. Of course Fronius will fix all of this with the new models, its just that what you buy today is the old model.
What you have today is the Fronius Primo single phase range, and the Symo 3 phase range.
The current 'Primo' in WA is limited to 5kW and 6.6kW of panels, doesn't have any sort of battery storage capability, but the reporting via WIFI is solid and on par with most others. The Smart Meter adds consumption and import/export reporting but is redundant as and when you want batteries and need to buy an AC coupled battery inverter (e.g. SMA Sunny Boy Storage). The current Primo is due to be replaced by the Primo Hybrid mid 2019. It's unlikely that Fronius will simply drop the current Primo because no doubt the Primo Hybrid will be a fair bit more expensive but it's inevitable that over the following couple of years there will be little point in supporting the old non hybrid version.
The Symo is identical to the Primo apart from, of course, it's three phase.
There are 3-5kW hybrid versions of the Symo currently available if you want to connect batteries. Very expensive. By late 2018/early 2019 it will be able to connect to LG Chem and BYD batteries, but by the end 2019/early 2020 the new Symo hybrid range should be out and it seems inprobable that the existing Symo hybrid with it's major deficiency (single MPPT) will last much longer than the release of the new one.

Pictured below the Fronius Primo Hybrid as displayed at All Energy Expo in Melbourne in late 2018. The new Symo hybrid looks the same. The grill is not to plug in your IPhone and play your favourite tunes, it's to expel heat. Similar size to Huawei hybrids.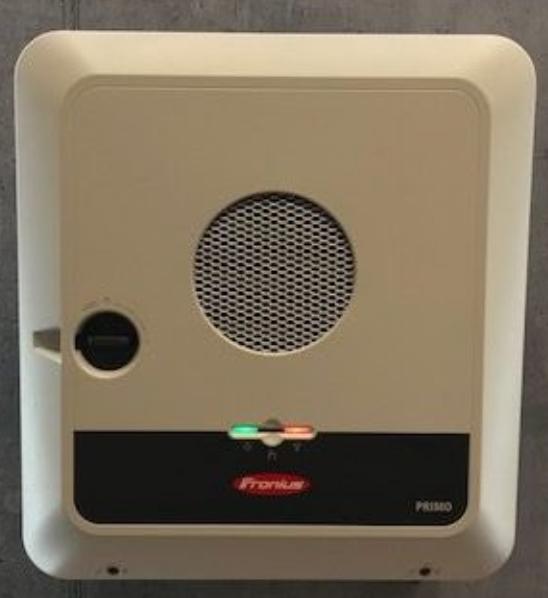 As those who have read our Huawei review will understand, the LG Chem high voltage batteries can't handle more than 500V input. Huawei manage this limitation by saying 'Don't put too many panels on the string' (12-13 max) which, frankly, is pretty sensible and cheap advice. Fronius, being Fronius, have designed a $500-$600 box that you have to install between the battery and the Symo hybrid, cunningly called the 'Checkbox 500V' that stops any over voltage from getting to the battery. Really? We are after all, CEC accredited electricians who have passed the course, and can run the numbers for our local minimum temperatures, VOCs and irradiation. Oh well, as anyone can buy a Fronius inverter from a solar wholesaler, perhaps it's a product for dummies.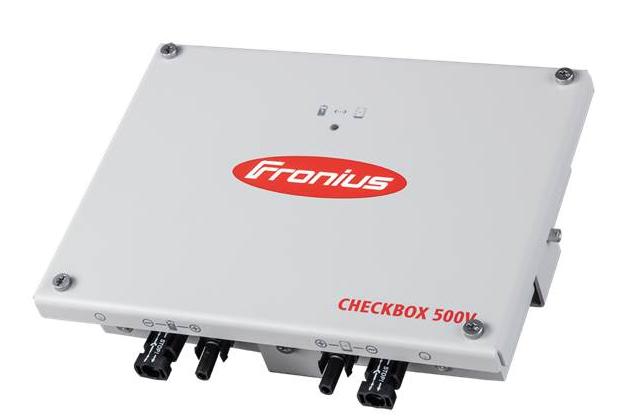 Fronius 3 phase smart meter (left) and single phase (right).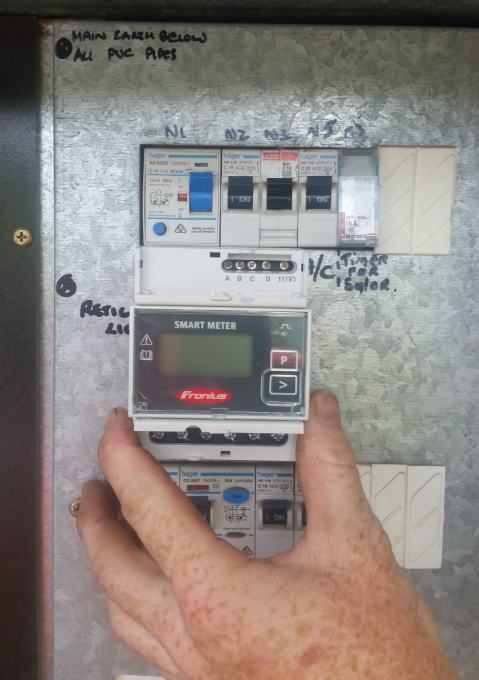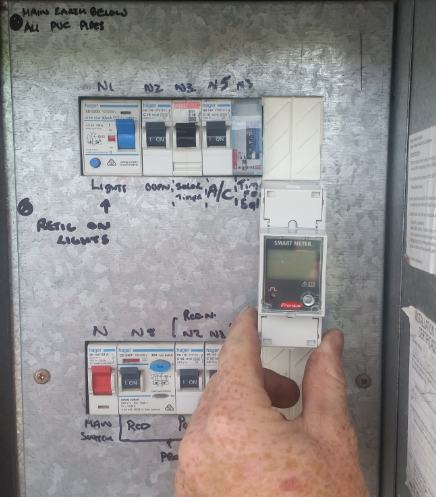 Fronius product ranges (Australia)
Click the blue links to view the brochure/datasheet for each range.

Primo Range - All are single phase, dual MPPT
Primo 3.0-1 - 3kW AC output, 3.9kW max solar panel power
Primo 4.0-1 - 4.0kW AC output, 5.3kW max solar panel power
Primo 5.0-1 AUS - 4.6kW AC output, 6.1kW max solar panel power
Primo 5.0-1 - 5kW AC output, 6.625kW max solar panel power
Note: We stock both versions of the 5kW Primo. The AUS version is limited to 4.6kW AC
The International version is the full 5kW, allowing two extra panels to be installed.
Both are supported by Fronius in Australia.
Symo Range - All are three phase, Two MPPT
SYMO 3.0-3-M - 3kW AC output, 3.9kW max solar panel power
SYMO 5.0-3-M - 5kW AC output, 6.6kW max solar panel power
SYMO 10.0-3-M - 10kW AC output, 13.3kW max solar panel power
SYMO 5.0-3-S Hybrid inverter works with DC coupled batteries, three phase, but only one MPPT

Fronius - The Company
Austrian company that started manufacturing solar inverters in 1992.
Excellent WIFI and stats.
Stylish appearance
Almost on par with SMA for reliability
Much of the time, 10 year parts warranty, 5 year labour warranty.
Negatives about Fronius inverters
Quite noisy. The fans in even the latest Fronius inverters are frequently louder than any other inverter we've worked with, especially around mid day when its working hardest. If you are a nanny napper or night shift worker, sleeping with a wall close to the inverter, then you probably would be better to go with something else.
Large. The inverters are twice the size of most others, including Huawei. Some might say that means they are better made, and others, like us would say that they don't know as much about fitting a lot of complex electronics into a very small space, and cooling it appropriately as smartphone company Huawei. Of course, installed in a garage, often size really doesn't matter.
Fronius Inverter warranties
The standard warranty for all Fronius inverters is 5 years, parts and labour
As a sales incentive, they frequently offer an extra 5 years warranty on the inverter, but not the labour (e.g. in 2018 an inverter replacement typically costs $170 in labour charges).
Setting up WIFI on Fronius inverters
Fronius WIFI Setup for Android or Apple Smartphones
Download and install the Fronius Solar.web live app for iPhone or Android
Open the app, and press the red icon in the bottom right of the screen and then click
Setup my Fronius Inverter. Then select Grid Connected Inverter.
Go to your Fronius inverter and press the Menu button (2nd button from the right)
Scroll right until you get to the Setup menu and then press Enter (furthest right button)
Scroll down to WIFI Access Point and press Enter and then Enter again to Activate WIFI
On your smartphone go to your WIFI networks list and connect to Fronius.
The temporary password is 12345678.
In the Solar Web app, click SolarWeb Wizard and enter the details
Feed in tariff (what you get paid for surplus power sent back into the grid) in 2016 is 0.07135,
and Grid supply tariff (what you pay Synergy is 0.2647. You will need to update these prices every time Synergy increase their prices. When you have entered the date time and time zone, click Forward
Give your system any name you like and then enter the PV Power in Watts (e.g. if you havea 5.3kW of solar panels then enter 5300) , and then press Forward and then Accept. Select your home WIFI from the list and then enter your home WIFI password and then click Connect. Exit the App and re-connect to your home WIFI.
Test that you can access the Internet, and then re-open the Fronius Solar Web app. I will attempt to connect to the network, and can take a while. When it has connected, click Forward, and then enter a new password for your inverter, replacing the default 12345678, and click Finish.
The app will take you to the solarweb.com website where you need to register for a new account and then fill in all the details requested. You will be emailed a confirmation link to verify your email address for alerts. Respond to this (check your junk folder if you don't see an email, and if it has gone to junk allow all future emails from solarweb.com to be accepted).
Re-open the Solarweb app and click on the red icon in the bottom right again, and click Login to SolarWeb
Enter the email address and password that you used to register your new account and click Log In
It takes about 15 minutes.