Solar Panels and Inverters

Solar Panels
Q.Cells, Canadian, LG, Jinko, Trina, Longi, Sunpower, REC, Risen, Winaico, Talesun, BYD, Eging, ET, HT-SAAE, JA, Phono and Seraphim represent almost all of the Tier 1 solar panel brands available in Australia. If we missed one, sorry.
It is very hard to prove that one brand is better than another.
Some solar sales reps get pretty aggressive on this issue, especially if they have exclusive distribution rights for a product, claiming their brand is excellent, better built etc and the rest are cheap rubbish that will, without any doubt at all, let you down a few years down the track, costing you a fortune to replace.
With the exception of a Tier 2 brand, no longer sold of course, where they genuinely were pretty crap, we've had no issues with any brand and we've installed reasonable numbers of almost all of them over the years. If someone waves a photo of a broken Jinko, Canadian Solar, Trina etc etc panel in front of you as proof , just remember that 20 panels on a roof x 1.8 million homes in Australia = one heck of a lot of installed panels, and a couple of duds represents a VERY small percentage. Plus, of course, all the Tier 1 brands give you are a 10 year warranty as a minimum and also it could be down to poor transportation and handling by the cowboy installer.
Poly panels are blueish and the cheapest. In fact usually they are free or better than free because the rebate on solar panels is often higher than the cost of poly panels. Most of the big named brands above sell polys and they are all fine, much of a muchess in terms of performance in heat, efficiency, and warranty. No, a Canadian Solar poly is not better than a Jinko poly (replace either of those brand names with any other from the Tier 1 list) but some are cheaper ($20 a panel cheaper x 24 panels = $480 saving) than others, and a couple have a real Australian office (good thing for any warranty claims down the track) while most have an Australian phone number that diverts back to the real office in China, Taiwan etc
Mono cells are black, which most people agree looks much nicer, are more efficient, which means that you need fewer of them to generate the same power (e.g. 24 x 275W polys = 6.6kW, as does 22 x 300W, or 20 x 330W monos). You pay more for monos (usually), but it's not a heck of a lot more, and they DO perform a little bit better in the heat and make a bit more power...or at least every mono install we have ever done does. (See how we know this further our free client reporting service down the page). Longi, Canadian Solar, Trina, Jinko make good and very similar monos, Q.Cells monos are a step up, and LG and SunPower own the premium space.
The third type of panel is a variation of the other two. Half cell panels can be polys or monos, and it simply means that instead of 60 full sized cells, they have lasered them to make 120 half cells. (or in some cases a 72 cell panel becomes 144 half cells). The panels are wired slightly differently too which gives them two advantages. They perform better in the heat than regular polys or monos and they also have some minor shade advantages. Until now REC and more recently Canadian were really the only two who had half cell panels, but as we saw in Munich this year, and more recently in Melbourne, at the two big trade expos that Aussie solar companies attend, half cells are on the way from almost everyone. The really good news is that they cost very little more than a regular poly or a regular mono.


Within these types are technologies all aimed at squeezing a little more power out.
Dual glass/ bifacial panels aim to give you more power by getting the light to both the front and the back side of each solar cell. Their effectiveness depends on whether the light can get there or not. Bifacial panels really need to be standing up straight rather than lying on a residential roof to work.


Is it worth spending $3,000-$6000 for a 6kW install of premium panels?
Not every decision is about price. There is no way on earth you could work out a cost justification for paying that much extra based solely on the value of the couple of percent of extra power produced by a premium mono installation.
Having a 25 year defect warranty (not to be confused with the 25 year cell performance warranty that ALL panels have as a minimum) is very re-assuring to some people, whereas others would rather put cheaper panels up now because in ten years time there is likely to be much better technology. (Who can argue with that?)
What if you get divorced or move house for work, leaving those lovely premium panels behind? In the end, for people even considering premium priced panels, it's unlikely that a few thousand dollars is really going to hurt the bank balance, and therefore, our view is, if you want them, then like having a very nice car, or a very nice anything else that costs more, then why not?


How do we KNOW which panels work best in Perth?
Well we have done a bunch of rooftop tests where we convinced some people in Perth to have 12 different solar panels (or more) on their roof fitted with optimisers so we could monitor the output for each individual panel. Here's a picture of one of the older installs.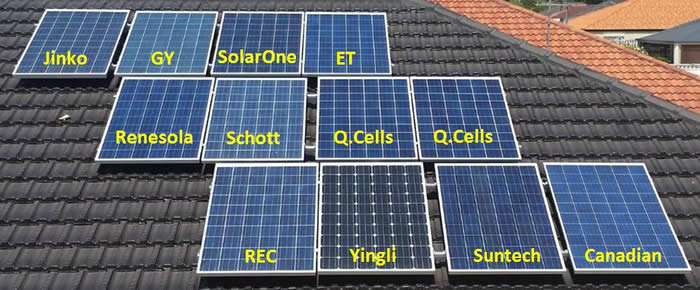 In addition to the rooftop tests, some of which have been going for more than 5 years now, we also run reports every three months on all of our customer installations. Tens of thousands of reports, some going back to 2010-2011. Like this...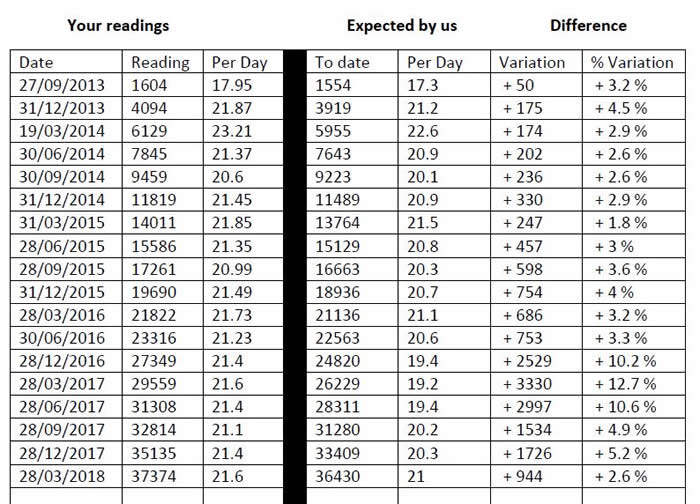 Australian Office is good...right?
Yes, we like that. Canadian Solar, Jinko, Trina, Q.Cells, and LG all have local staff and offices and warehouses. Whilst we have been around longer than most in this industry, one day, over the next 25 years, we might close up. Who can say? So having your warranty on your panels handled by someone with an operation HERE, seems like it would be easier.
The same applies to inverters. SMA, Fronius, Huawei, Delta, Goodwe...all here, not over there.
The panel brands!!
Click the blue brand name for a full review, datasheets etc
Canadian Solar have the largest available range of panels with a variety of straight poly panels, straight mono panels, half cell polys, half cell monos, bifacial...you name it, and all supplied and supported by the local Canadian Solar Australia team.
Trina, Jinko, along with Canadian are 'the big three' Chinese brands with annual sales over $3 billion each, they top the Tier 1 list.
Talesun, ET and GCL are slightly further down the Tier 1 list but still giants in the industry. Smaller available range in Australia than from 'the big three', but what we do get from them has proven to be very good quality, and usually priced a little lower too.
Longi are, and have been for many years, the World No.1 monocrystalline cell manufacturer and we like their panels. Not too many others sell them, but they should.
Q.Cells. The half-cell Q.Peak Duo mono panel won this year's 'Best panel' award at Intersolar in Munich (biggest solar expo) and the year before they won with their innovative steel frame (everything else is aluminium), so it's clear the R&D and engineering in Germany for Q.Cells is as strong as ever. Well supported by their Australian office, this brand is always more expensive than the Chinese, but it's top quality.
REC panels are made in Singapore and are a good quality brand. They were early adopters of half cell technology with their Twin Peak polycrystalline range and we are now seeing REC half cell monos coming out as well.
LG and Sunpower. If you want the best panel, with the longest warranty, and don't care how much you spend to get it, then these two brands own the premium space. LG also make excellent high and low voltage solar batteries.
Inverter Summary
The quality of solar inverters today is hugely improved from a few years back. A simple relay was the undoing of a huge number of inverter brands, dragging down their wholesalers and retailers with them. What we are left with today is really very good, across all price points.
We would have no hesitation in recommending and honouring the warranty on today's lower cost inverters from Growatt, Goodwe, Zeversolar, Sungrow and Delta.
We would be happier, and in the long run, so will you, if you bought Fronius, Huawei, SolarEdge or SMA but it will cost you about $700 to $1200 more than one of the economy models.
The big solar lie
"Yes, this inverter is battery ready"
Read this page to see why it's a lie and how much it will end up costing you later on when you want to connect batteries if you fall for it.
A brief description of each of these top inverter brands
Click the blue brand name for a full review, datasheets etc
Huawei FusionHome inverters are indeed a fusion of everything that is good about rivals Fronius and SolarEdge, all combined into one small and light product. It's a brand spanking new product line to Huawei's long proven and World No.1 commercial inverter range.
Battery interface built-in, DC optimisers for eliminating shade issues with panel level reporting, excellent WIFI and a 10 year warranty make this product very hard to go past. Huawei are 83rd on the World Fortune 500 list with sales of US$75 billion last year.
You won't find much internet chat in Australia about this product yet, too new, and many solar companies like to stick to what they know (Fronius), but we saw it in early 2017 at a trade show and KNEW it was the best there has been for many years.
Fronius make excellent 'string inverters'. Primo range for single phase, and Symo range for three phase. All 100% European made (Austria), 10 year parts and 5 year labour warranty. Excellent reporting via inbuilt WIFI. New range of products coming to Australia next year. Click the Review link to find out more.
SolarEdge. Every solar panel has a SolarEdge power optimiser attached and in so doing, at great expense, allows every panel to operate as a law unto itself. Shading, roof orientations mean nothing to the flexibility of SolarEdge. However, a very confusing array of products, best explained by clicking on the blue SolarEdge link means that many end up with (not from us, of course) something other than what they thought they were buying.

Goodwe are perhaps the surprise near the top of this list of heavyweights but it ranks highly because it is so reliable, has very detailed reporting via WIFI and the company built their name in the challenging battery inverter market. They have the most comprehensive range of Hybrid inverters, and retro fit DC and AC coupled solutions that can be used to put batteries on ANY solar installation, new or old, single or three phase.
SMA German company that still makes their smallest inverters in Germany (1.5kW and 2.5kW) but the rest are made in China. We hear the move to China saves $80 an inverter compared to making it in Germany, but in Australia, the brand name, so popular for such a long time for being German not Chinese made, was seriously damaged by the move. Nice AC Coupled battery inverter (SMA Sunny Boy Storage) that can be added to any solar install new or existing. No matter where the inverters are made, this is a top quality product range to put on the shopping list alongside Fronius, Huawei,and SolarEdge.
Enphase make an excellent micro inverter, similar in function and price to SolarEdge except there is no central inverter. The conversion from DC to AC happens on the roof with each micro attached to each solar panel. Good reporting via WIFI through a small control unit (called Envoy). We stopped doing Enphase three years ago for reasons we won't put here.
Good inverters priced a few hundred more than most other Chinese brands because they provide a full 10 year parts AND labour warranty. Now they have WIFI (finally), they are a good choice.

Sungrow
Solid range of single and three phase inverters plus a nice single phase hybrid that works with any low voltage (48V) lithium or lead acid battery. Good to see the new Sungrows have re-introduced the LCD screen on the inverter. WIFI works very well and their 18 strong office in Sydney (since 2012) provides excellent support (Telephone 1800 786 746). Sungrow have 10% of the Australian inverter market and 15% globally so certainly a very strong brand.
The cheapest inverter in all categories by a couple of hundred dollars and a fair choice if on a tight budget.
German SMA bought a struggling Chinese inverter manufacturer (Eversolar), re-engineered the product and it's now pretty good at the low end. It's not an SMA inside so don't think you are getting SMA simply because SMA own the company. Incredibly expensive to add WIFI to this product, where normally it's either included free or $20 and no 3 phase solutions make this a brand we will supply if you ask for it, but we won't recommend it.