Growatt Inverters
The first Growatt inverters we ever installed were in early 2011. Back then it was mostly 2kW and 3kW installations and hand on heart, those little inverters have worked and worked and worked with barely a single fault out of many hundreds that we installed. The larger 4kW and 5kW inverters however were not as bullet-proof as the little ones. We stopped selling Growatts for a while due to awful service from their Australian service agents. However, in recent times things changed for the better, with Growatt themselves taking back support by installing Roger and his team in their Sydney support centre (02 8605 1298). Their support is superb so we are back on board with this brand.

Apparently there are 200,000 Growatt inverters installed in Australia, a number we frankly found very hard to believe. The only reason we can think of for Growatt having such a huge market share here is that True Value Solar used to sell them like there was no tomorrow. For a couple of years TVS were Australia's largest solar retailer. You may remember the endless TV ads from True Value...who have since gone out of business.

Like Fronius, they are currently offering an extended 10 year warranty. You get 5 years by default, and then after your inverter is installed, you login to their warranty extension page to get a further 5 years defect warranty...
http://oss.growatt.com/common/extendedWarranty

and fill in the few simple details required and then you get the offical Growatt 'extended warranty certificate'

The WIFI dongle and smartphone/browser reporting is included in the price. The setup for this is the simplest we've ever encountered and the Growatt ShinePhone app and whilst not as sophisticated as Huawei or Fronius is really very good indeed.
Growatt Wifi setup instructions

Talking of price, Growatt compete with Goodwe, Zeversolar, Solis, Delta and Sungrow and are usually pretty price competitive, especially when the 10 year warranty is factored in.


Growatt have a well priced, very stylish, single phase 5kW hybrid (SPH) at $1,990, but what makes this hybrid really interesting is they have released their own 6.5kWh (6 kWh usable) battery at RRP $3,650. You can parallel two batteries together to get 13 kWh (12 kWh usable).

That RRP price, $7,300 is VERY good value for 12kWh usable LiFePO4 storage, but the single battery price is low enough to get people to buy it just for the experience.

Furthermore, there's a fair bit of profit in that RRP price, so we can do better if you are seriously interested. Yes, it will take you about six or seven years to get your money back but it has a 10 year warranty, and it's just what the early battery adopters have been waiting for.


The Growatt regular non hybrid inverters are solidly made, reliable and we sell a lot of them. A new 5kW single phase model (5000TL-X) which looks just like the Huawei hybrid inverter has been released. It's a bit more expensive than the existing model (both are available) but apart from the snazzy looks it has a feature people love in Fronius and Huawei inverters...home power consumption reporting.

The Growatt smart meter ($150 + $165 installation) reports the data back to the inverter and then in the reporting software you can see, in addition to the standard solar production, the power you are buying from Synergy, how much of your solar power is being consumed in the house, and how much power you are exporting. It's the total energy picture people love to see as it really helps them to make adjustments to their power use.


We use their 1.5kW, 2kW and 3kW models mostly for the people on the old 40 cent FIT who have a broken inverter and need a cheap and quick replacement.


Their 5kW models, both single and 3 phase are big sellers, because they tick all the boxes for people wanting not to break the bank with their solar purchase. Low price ($1,000 less compared to Fronius), good WIFI reporting included and a 10 year warranty from a company with a proven long track record in Australia.

Their DC-DC converter designed for retro fits looks interesting and should compete very effectively with MyReserve and Goodwe in that small product space.




Pictured Growatt SP 2000 DC converter with low voltage battery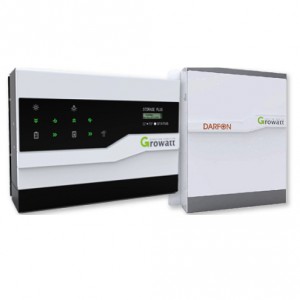 Schematic of SP2000 DC Converter connected to batteries and another inverter