Huawei Solar Inverter Review Australia 2018
Maybe we have been doing this too long, but it seems like years since any solar product came along that could remotely be termed a game changer.
1. It's a hybrid inverter. In-built battery charging and discharging hardware and software.
That will save you about $2,000 when it comes time to connect batteries compared to a regular inverter like Fronius Primo/Symo, SMA, ABB, Delta etc

Left Fronius. No battery connection there. Right Huawei with + and - connectors for batteries
2. It's several $100 cheaper than any other existing hybrid and even cheaper than some regular non-hybrids
3. It has a genuine 10 year product warranty + 5 year labour warranty from the 83rd largest company in the World as measured by the Fortune 500 list (Last year sales were US$75 billion). Huawei are also the World No.1 commercial three phase solar inverter manufacturer, a fact that surprised us and many others, because in Australia, it's mostly been SMA and Fronius for commercial.
4. It's tiny. Half the size on your wall compared to a normal 5kW inverter like Fronius Primo.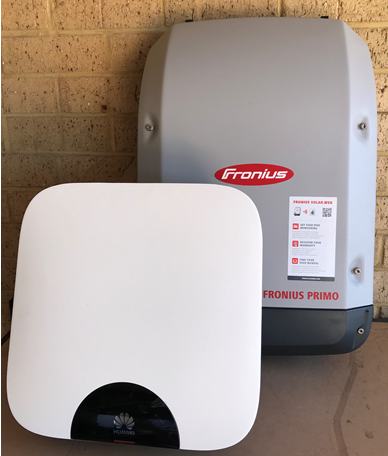 5. It's beautiful. Won a prestigious international design award.
6. It has optional DC optimisers ($80 each) that can be connected to all or any of your solar panels. Huawei are unique with their optimiser design. Instead of having an optimiser on every panel (e.g. SolarEdge or Enphase micros) you only fit them to where you need them. This hugely helps us design a very cost and power efficient solar installation. For instance, we can create a 14 panel string, with 10 panels facing North and 4 facing West and put optimisers only on the 4 West facing panels with no power losses. Or we can put optimisers on a couple of panels that get shaded now and again and again, with no loss of power to the rest of the string. (More on that at the bottom of the page).
7. Like any brand new product, not every single thing is available on Day 1. Whilst the optimisers are here and working, and have a generous 25 year warranty, the Smart Safety Box is not here yet, so for now, you can't see the individual outputs of each optimised panel in your reporting software. It's completed Alpha trial and is now in Beta, whatever that means.
ETA September 2018 at an add-on cost of approx $300.
8. The Huawei NetEco smartphone and web based reporting is very good already and getting better all the time as Huawei add more and more functionality. For at least 90% of people, the current level of current and historical reporting and emailed alerts is likely to be all they will ever want, but as new things arrive the inverter firmware and software can be remotely updated.
9. The only battery range Huawei are currently working with is the LG Chem High Voltage models. This is a very smart move as they are the best. However, Huawei are still working on an Emergency Circuit so for now, you can't use your LG Chem as a UPS if you lose power. ETA on that is currently unknown but we are assured it is under development.
10. Huawei certainly put themselves about. The design of the product was done in Germany and international support is via a centre in Romania (who all speak English). However, there is also a small team of Huawei support staff in Australia and we advise you to try them first if you have any support issues that we, or whoever you've bought your Huawei from, can't solve. Jack Li on 0424 272 882 or jack.li1@huawei.com has been particularly helpful.
Models
All the models are physically the same size, with all the same features.
Battery interface built in
Dual tracking
WIFI and smartphone/browser reporting built-in
Optional DC optimisers
Optional smart meter
SUN2000L 2kW, 3kW, 4kW, 4.6kW and 5kW.
WIFI setup instructions for installers and end users
All Huawei FusionHome are currently single phase, but for 3 phase homes, just join the 3kW and 2kW models together for 5kVA or 3+3+3 (9kVA) or 5+5 (10kVA) or even 3 x 5(15kVA) for a larger system if your electricity company allows it (some don't). There is a 5kVA 3 phase model being released around the end of 2018 or early 2019 but for now we use what we've got. Joining two together gives you the additional advantage of having panels on four roof orientations without using DC optimisers, as every inverter is a dual MPPT (tracking) model. The reporting software (NetEco) shows both the combined output of both inverters as well as the individual outputs.
Note. For larger 3 phase non hybrid installations the Huawei Fusion Solar inverters (8kW, 12kW, 17kW, 20kW and 33kW) inverters are available. They are really excellent, World leading in fact, but an entirely different technology to these FusionHome residential inverters.
Summary
If you are looking to connect batteries right now and you want an emergency circuit to keep the lights on (but not anything high draw like AC or kettles, ovens) for a while when the mains goes, then you would be better off looking at the hybrids from SolarEdge, Goodwe, Sungrow.
It's coming, with Huawei, but not here yet. Neither can they provide reporting on each individual panel just yet, so if you want that NOW, get a SolarEdge.
However, when 90% of inverters including popular brands like Fronius and SMA will never have panel level reporting, emergency circuits, or even battery connections, we see the fact that Huawei came to market with a product that did what most people want, but not what everyone wants, on day 1, as a typical new product release. It's not like SolarEdge launched with what we now see today. It tooks them years. Huawei are talking just a few months to get everything available.
As for what is available right now. It is simply a fantastically well made, well designed product. You should see how it is packaged lol. Every single little component in its own pink zippy bag...which is actually a bit annoying for us installers as it wastes time and is hardly eco friendly, but very clearly demonstrates from packaging onwards that this is a top quality product with no corners cut to save a dollar or two.
We have no doubt whatsoever that within 18 months the Huawei FusionHome range which is being expanded in 2019 to include a three phase 5kW inverter, will be quoted by almost every solar company here and around the World. It really is that good. For now we totally understand if YOU don't want to be an early adopter (it came out in January 2018 so there would only be a few thousand installed in Australia so far) and prefer something tried and tested. We carry all inverter brands except the mongrels.