Goodwe Inverters
Goodwe inverters caught the attention of most solar companies in Australia
when German Photon magazine awarded them a AA rating in their strict testing,
and ranked them 2nd in the residential inverter classification and Top 5 in commercial.
Even the solar trolls on Whirlpool who relentlessly mock anything Chinese found it hard
to say anything bad about this brand. It's very well made, with none of the cheap
components found in the majority of Chinese made inverters.
What is also particularly impressive about Goodwe is their range of Hybrid and AC coupled inverters and their remarkable DC coupled DC converter that can connect to ANY solar inverter, new or old and connect battery storage.
Just plug the battery in !!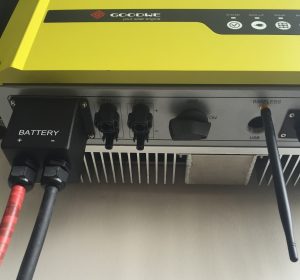 Somewhat ironically, the Goodwe 2.5 and 5kW DC converters are the current go to solution for hooking up batteries to the market leading Fronius inverter.
Goodwe also make an AC coupled interface. This concept often has people scratching their heads, but it's pretty simple. You hook up the Goodwe product directly to the switchboard and connect batteries to it. It doesn't go anywhere near your existing inverter. Once your existing inverter has done its job of converting DC solar panel power to AC, it sends it to the switchboard..job done. The Goodwe product intercepts that AC power and stores the power if your house doesn't need it. When the solar shuts down you have all that stored power to use in the evening. If the batteries are full, the surplus is exported to the grid as usual as long as your electricity retailer allows that to happen and pays you for it.
Goodwe also make a couple of true hybrids. This is an "all in one box" solution. You connect the panels to it as normal, and the battery plugs in underneath. A Goodwe smart meter monitors your home power use, and releases battery power when you need it. Any surplus solar power is stored in the batteries and when they too are full, the remaining surplus goes out into the grid, and you get a credit from your retailer for it (usually between 7 to 13 cents per unit / kWh depending on where you are in Oz). The two Goodwe hybrids models are both 5kVA single phase. The 5048-EM model costs $2,190 and it's battery and emergency backup circuit output is 10AMP and therefore apparent power 2.3kW, the 5048D-ES has double the output and backup circuit current and apparent power and sells for $2,640. In the event of mains power failure, both models kick in and provide power to whatever devices have been wired to the inverter emergency circuit. (20A with ES model, 10A with EM). Solar inverters will trip if there is too much current required in backup mode, so a separate circuit for backup with a known maximum load is necessary. One of the selling features of the Goodwe hybrids is that this emergency circuit kicks in within milliseconds, compared with other hybrids that shut down for a couple of seconds and then re-route battery power to the emergency circuit after that. However, whichever way you look at it, backup power is NOT a UPS so if your desktop computer is on the emergency circuit, even a millisecond or two of power loss is probably going to crash it.
Goodwe are updating their brochures to reflect the fact that both inverter models now have the Emergency circuit (EPS).
Having talked endlessly about Goodwe and it's multitude of products for battery connection, let us add that the huge majority of Goodwe inverters sold are bog standard, but very good inverters with no battery interface at all. You would have to add one of the above Goodwe products to them same as with all the other inverters out there that aren't true hybrids. (ha ha, the biggest lie in solar..."Yes sir/madam..this inverter is most certainly battery-ready" (but we will keep quiet about the $2000 extra you will have to pay for interfaces and meters and installation before you can think about hooking up a battery). If you want batteries later, get a true hybrid now !!
All of the Goodwe inverters come with WIFI as standard and your solar data is uploaded to the Goodwe monitoring portal every few minutes. You can view it via a smartphone app or on a web browser. The data is very detailed, and when you connect batteries, it shows the charge/discharge rate and capacity of your batteries storage as well.
Warranty and support
In a move we applaud, from late June 2018, Goodwe non hybrid inverters up to 5kW (single and 3 phase) are now coming with a 10 year factory product warranty with 5 years transportation and labour included. That puts them on a level playing field with Fronius, SMA and Huawei. It's a vote of confidence in their product.

Goodwe have an office in Australia and we have found their support to be first rate. You can contact Goodwe on 03 9324 0559 or email the manager Michael at michael.zhang@goodwe.com


Datasheets
Note:
MPPT indicates how many roof orientations can be supported for panel installation
Single means one only, e.g. only on North, or only on East etc
Two MPPT means panels can be installed on for instance, North AND West
Goodwe product ranges (Australia)
Click the blue links to view the brochure/datasheet for each range.
NS range - All are single phase, single MPPT
GW1500-NS - 1.5kW AC output, 1.95kW max solar panel power
GW2000-NS - 2kW AC output, 2.6kW max solar panel power
GW2500-NS - 2.5kW AC output, 3.3kW max solar panel power
GW3000-NS - 3kW AC output, 3.9kW max solar panel power
DNS Range - All are single phase, Two MPPT
GW3000D-NS - 3kW AC output, 3.9kW max solar panel power
GW3600D-NS - 3.68kW AC output, 4.9kW max solar panel power
GW4200D-NS - 4.2kW AC output, 5.5kW max solar panel power
GW5000D-NS - 4.95kW AC output, 6.6kW max solar panel power
LDT Range - 3 phase, Two MPPT
GW4000L-DT - 4kW AC output, 5.33kW max solar panel power
GW5000L-DT - 5kW AC output, 6.66kW max solar panel power
GW6000L-DT - 6kW AC output, 8kW max solar panel power

GW10K-DT - 10kW AC output, 13.3kW max solar panel power
GW25K-DT - 25kW AC output, 33.3kW max solar panel power

Goodwe Hybrid inverters works with DC coupled batteries, single phase, two MPPT

GW5048D-ES - 5kW AC output, 6.6kW max solar panel power
GW5048D-EM - 5kW AC output, 6.6kW max solar panel power
(The EM is cheaper and newer but has a slightly lower battery charge discharge rate)
Goodwe retro fit DC coupled battery storage system
GW 2500-BP Connect up to 10Kwh of battery storage. See below for full description
If you already have solar and want batteries, you can retro fit the clever GW2500-BP interface and smart meter.
Goodwe Inverter warranties
The standard warranty for all Goodwe inverters is 5 years
Extended warranties to 10 years can be purchased as shown below
(most popular models shown, others on request)
GW2500-NS $210
GW3000-NS $210
GW5000-NS $260
GW5000D-NS $265
GW5000L-DT $250
GW10K-DT $275
Goodwe WiFi
The level of data available on the free WiFi feature of Goodwe inverters is excellent. You can view the data on a web browser or via their SmartPhone App (EziViewer). Here are some screen shots of some of what you get. (You get a lot more information if you have batteries connected).
1. This is a chart of the power produced over the day by a 3kW system in Perth on a mostly sunny day in May (see how it drops off at 12.30pm when some clouds came over).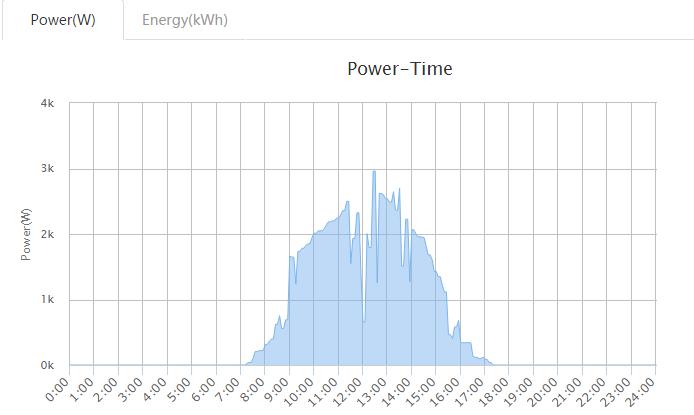 2. This is a chart of the the power produced by the same 3kW system for a few days since installation on May 3rd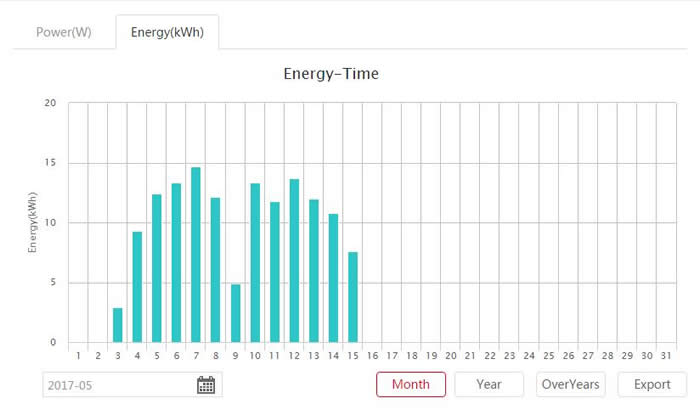 3. The drop down list on the right shows some of the many options you can report on. Not just power produced, but voltages & current from the grid or solar panels, battery storage/use, panel temperatures and much more. The software can also easily be set up to send you reports automatically by email every day, week, month and also email you an alert if the inverter detects a problem.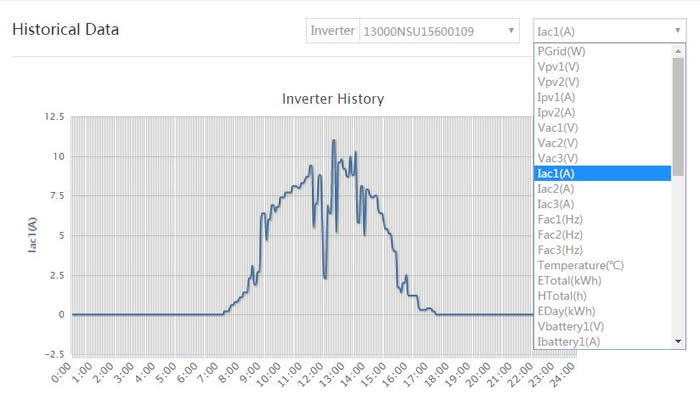 Goodwe software upgrade for AC grid voltage
Western Power are notorious for delivering very high AC voltages. There is a software tool available here to lift the voltage maximum on the inverter to 270V (the maximum allowed).
If this is not done, then if the voltage spikes about the default limit (262V) then the inverter will protect itself by shutting down until lower voltages are detected.
Click this link to download the zip file. It contains 4 files, including a PDF of the pretty simple to follow instructions. Extract the zip file so that you have a folder containjng the Calibrate.exe file, Settings and English files as well as the instructions.